Environmental pollution, and climate change, whether we like it or not, made us think about what we are doing to the planet and our own environment. Institutions are responsible, as are the citizens themselves. All our interlocutors not only contribute to the green solutions but also in a broader sense influence the possibility to live in more green areas and reduce pollution. Individual initiatives, small businesses, broader programs – with one goal. However, it seems that a broader understanding of the public lacks.
Creative activism
DYVO was officially launched in 2018 however, the research phase started in 2016.
To understand what Dyvo actually does, visit their Facebook page. A simple explanation would be - slow fashion.
They started with the aim to prove the concept model in connecting dots between creativity and circularity in solving the plastic waste issue.
They are dedicated to their passion, i.e., job, but also to caring for nature: "Blended into a perfect combination to make us take action. We call it Creative Activism".
They are aiming to challenge the current waste culture, with special attention to plastic pollution.
They produce fashion details from discarded plastic, so their products are sustainable also.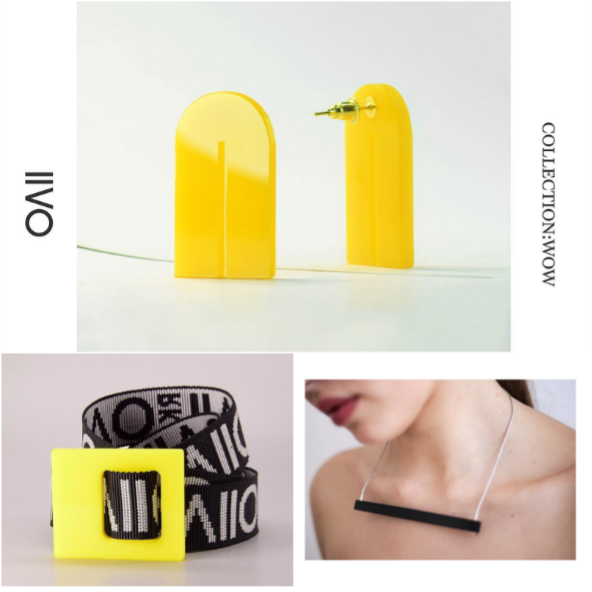 "So we can collectively heal our toxic behavior" - Dyvo team explains for www.kosovotrustbuilding.com
One of the ways to do that is with knowledge sharing because DYVO is sharing and inspiring also the next generation of creatives and they see it as "a must".
"To make the long story short, waste culture is a shortcoming of a linear mindset, and this is a generational challenge - that we have to work on every day for change to happen" – they explain.
How high is consumer awareness about these topics?
Depends on the region, culture, and context. So many developed and developing countries have established critical thinking toward consumption, supply chains, and the direct/indirect ways in which it affects our future. If we talk about the Balkan Region specifically, we still lack basic empathy towards the problem. We say this because in our research and engagement with the community we see clearly that people know about and have defined themselves that plastic waste is a problem, however, it's the action that is missing. This imposes higher cooperation of governments, institutions, civil society, and academia together with citizens. Not just to talk about it, but to start giving actual solutions so people can contribute specifically to change.
RISE the idea!
The RISE project aims to help youngsters of the Western Balkans to realize their business ideas into successful social entrepreneurship businesses in their communities, with a clear social impact.
This means that the youngsters are working not have a business that creates profit, but this profit goes back into their work which aside from the entrepreneurship side has a direct positive social impact in their communities.
"RISE Journey supports social entrepreneurship ideas, where a lot of them are working on tackling environmental issues in their communities" – explains Shpend Mustafa from the Balkan Green Foundation.
Balkan Green Foundation manages the Balkan Green Ideas which is a regional competition organized since 2012 where WB6 countries and Greece participate, and via financial grants, they support green ideas in WB6 and Greece.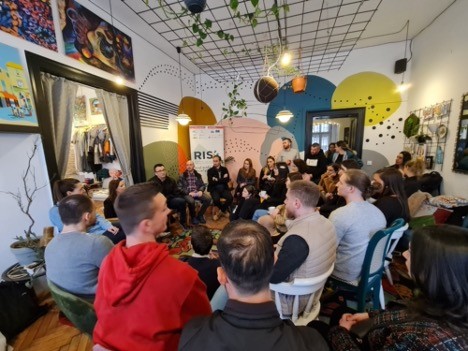 The program is now in the phase of working with selected ideas, and teams.
"35 degrees" and Eco Solution are two teams that have proceeded into the Incubation Phase.
After four months of weekly training sessions, and mentorship one-to-one sessions, seven teams part of the RISE Journey participated in the Demo Day where two of them got selected by the professional jury.
These two teams now are continuing their journey in the Incubation Phase with a financial grant of EUR 2500 and mentorship from BGF on successfully implementing their social entrepreneurship ideas.
"35 degrees working on a toilet stool that positions the body in a natural, comfy squat. This toilet posture helps you to be healthier and feel better. It helps prevent and cure diseases such as colitis, appendicitis, hemorrhoids, constipation, and colon cancer. Eco Solution is tackling food waste which is among the leading causes of freshwater pollution. 33% of the food produced for human consumption every year gets wasted. Eco Solution plans to develop an organic product from food waste that optimizes the use of natural resources based on the concepts of sustainability & reproduction", Mustafa said.
Commenting on how interested are young people in green social entrepreneurship ideas, Mustafa said:
"Unfortunately, people do have not much information as would be preferred on the concepts of social entrepreneurship, on how to run businesses that have also a direct positive social impact in their communities. But, as it has happened with us when we work with the youth and we present the work that we are doing in this field, they become very interested and supportive of this idea. On our first edition of the RISE Journey, we had two teams that are now fully-functional successful social enterprises".
Leka lamps: Plant a tree!
Scientists estimate that 80% of the planet's terrestrial species live in forests. Deforestation is therefore one of the biggest extinction risks to many species, oxygen, and food. According to Global Forest Watch from 2001 to 2020, Pristina lost 2.87kha of tree cover, equivalent to a 4.3% decrease in tree cover since 2000.
In Pristina, the top two regions were responsible for 81% of all tree cover loss between 2001 and 2020. Podujevo had the most tree cover loss at 1.19kha compared to an average of 411ha.
Besnik Leka reminds us of this statistic.
He is more recognized in the public for his civil activism and advocacy for a different approach to educating young men, outside the framework of patriarchy. However, he is also behind the "Leka lamps" brand.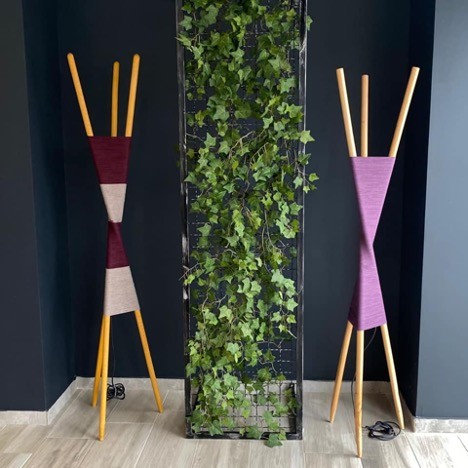 "Through our business Leka Lamps, we are trying to build a sustainable business which will initiate the new culture towards saving the environment from deforestation contributing directly to our mission "For every lamp we make, we plant a tree". We use environmentally friendly materials and we plant trees", says Besnik for www.kosovotrustbuilding.com.
The inspiration for making the lamps came from Besnik's father, who was forest-man, mechanic, and a very professional artist/craftsman. Besnik started making lamps in 2017, while experimenting and trying to work on his interior.
"There are so many industries around wood production. The majority don't think that we have to give back to nature, we have to think of ways for the business how to make them more sustainable and less harmful for the environment" – adds Besnik Leka.
Plogging – for the environment caring
Arta Ibishi- Çitaku initiated dozens of clean-up activities and in dozens of them she participated also.
As she explained she always had a sense for nature.
Initially, she participated for years in cleaning activities organized in Mitrovica by various organizations.
"I was not aware that I am becoming an active environmentalist. During my morning bicycle rides, I do Plogging daily", says Ibishi for www.kosovotrustbuilding.com
Illegal landfills in Mitrovica, which despite several attempts to close them, continue to function as such, rivers continue to degrade due to lack of proper management, and rapid urban development has shrunk green spaces and created a gloomy environment.
The use of plastic, this unhealthy and ever-increasing practice being used either by citizens or by local businesses is causing great damage to nature but also to the pollution of spaces.
The most frequented areas of the city are continuing to be more and more polluted, due to the overburden of the cleaning company, lack of waste bins and civic awareness also.
Arta, aware of all the negative impacts on the environment, pointed out the importance of care by her own example. However, what is even more important, from Arta's individual action, a group of like-minded people was formed:
"One day I decided to invite some like-minded people that would support my idea and luckily activities as a group started on 07 June 2020. Each activity grew bigger and stronger while bringing people together towards the aim of cleaning the environment meanwhile through these activities we manage to clean ourselves too".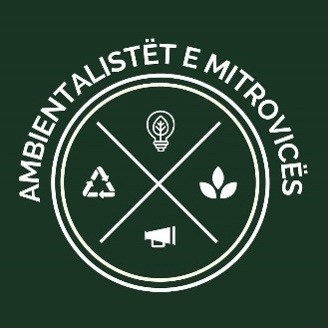 A group of volunteers is now called "Ambientalistet e Mitrovices", and they would like to reduce plastic waste and smoking buns that are recklessly thrown throughout the green environment. Their logo stands for - Energy saving, planting, lobbying, and recycling.
"Mitrovica environmentalists are a group of goodwill citizens who do not spare their time or effort to do good deeds for the environment around us. We decided to spare two hours of Saturday mornings and dedicate that time to plogging activities in various parts of Mitrovica. Each planned activity was announced on social media where we invited citizens of all ages that are environmentally aware to join us, and luckily the response was positive to each activity", explains Ibishi- Çitaku.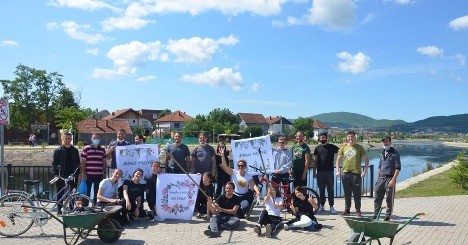 "A fact that gives us hope that there is a bright future for the environment. We all get the feeling that each participant is eager to see e positive change and have a greener environment, and the sense that participants belong to an initiative such as cleaning up/plogging, is a very positive feeling. With this activity, you do not only clean the environment, but you do clean a part of yourself too" – she added.
Our interlocutor explains that this is a lifestyle for her. She would lobby for mandatory fines that will prevent people from recklessly throwing waste and polluting nature:
"If we clean the landfills and take care of waste wisely, continue doing actions that would contribute to reducing environmental pollution and greenhouse gas emissions, we create more green space for humans and animals too. All of us think green and keep it clean".
Dear reader, now it's your turn to do something for the environment.